Dip.Coun, Cert Couns, Registered MBACP, BEM.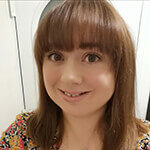 It is an important decision to invest in yourself through therapy. Whatever brings you to therapy Emma would welcome the opportunity to work with you. Emma works in accordance with the BACP Ethical Framework and will provide you with a safe, non-judgmental space to work within. She is a warm, open and caring person and takes each session at your pace and is able work short or long term.
Emma is a qualified Humanistic Counsellor and Registered member of the British Association of Counsellors and Psychotherapy (BACP), who has worked privately for a number of years and previously worked for charities in a voluntary role. She is now based in Whitstable where she lives with her husband and two children.
Training:
Registered Member Examination for BACP 2015
MFHA Mental Health First Aid 2014
Diploma in Humanistic Counselling 2013
Level 3 in Counselling Skills 2011
Level 2 Certificate in Counselling
CPD courses:
Mindfulness, Anger, Shame, Psychosynthesis, Stone work, Transactional Analysis, Anxiety, Depression, Online counselling via Skype.
Awards:
British Empire Medal (BEM) for time dedicated to voluntary counselling in the local community and a creation of a mental health network in my workplace.
The Humanistic Approach:
Humanistic Counselling emphasises the need for empathy in the counselling relationship. The aim is to assist the client to develop a stronger, healthier sense of self, as well as uncovering and understanding their feelings to help them gain a sense of meaning to their world.
Humanistic Counselling encompasses several counselling methods. Emma uses Person Centred theory with elements of Transactional Analysis (TA) and Gestalt and also uses various aspects of Cognitive Behavioural Therapy (CBT). If you would like more information on these theories, please do not hesitate to contact Emma.
Humanistic Philosophy
Emma truly believes that despite the various difficulties we may experience in life, every individual has the natural ability to realise their own potential. It is also important to her to have an equal relationship with her clients that Humanistic theory promotes.
Emma has experience in working with a wide range of clients presenting with;
Anxiety:
Panic attacks, Generalised Anxiety Disorder, Social Anxiety Disorder, Obsessive Compulsive Disorder, Post Traumatic Stress Disorder.
Depression:
Post/Pre Natal Depression, Premenstrual Dysphoric Disorder, Seasonal Affective Disorder, Loneliness and Isolation.
Relationships:
Families, Romantic relationships, Friendships, Divorce and Relationship Breakdown.
Stress:
Feeling Overwhelmed, Irritable or Angry. Situational stress, Career concerns.
Parenting:
Adjusting to life with a newborn, Parenting Styles and Behavioural Concerns, Relationship with your children and family, Loneliness and Isolation in pregnancy and postpartum. Difficulties conceiving.
Eating Disorders:
Binge Eating Disorder, Bulimia and Anorexia.